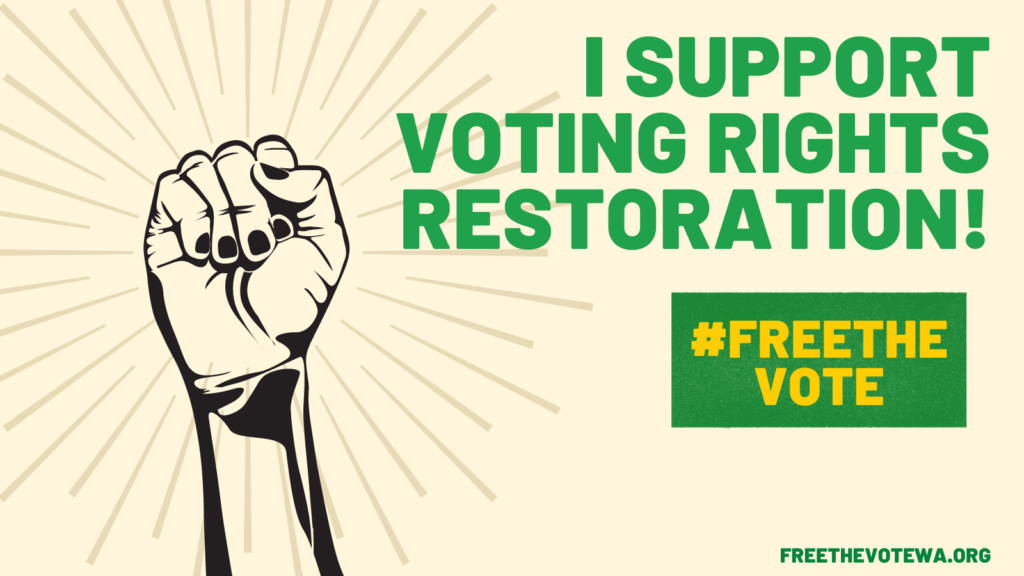 Over 20,000 of our neighbors still cannot vote because of the impact of our criminal legal system, but the WA State House took the first step to right this injustice by passing House Bill 1078!
We're overjoyed, but we're not done yet. We know the fight is going to be harder in the Senate, and we need you to show our Senators how many of us believe that every citizen living in our communities deserves a voice in our democracy. To help us, you can:
Send a message to your Senators through the easy Voting Rights Restoration action center. Your voice matters to the people you've elected!
Use your voice on social media to get your friends and family to take action using this social media toolkit. Use the hashtag #FreeTheVote to amplify your message!
Leave a comment supporting the bill.
Sample Comment:
I believe our democracy is strongest when everyone has a voice in the decisions that affect our lives. When we deny voting rights to over 20,000 people living in the community, we are violating our democratic values. People returning home from prison are paying taxes, working hard to provide for their families, and giving back to their communities, just like the rest of us. The right to vote would give them a stake in civic life and has been shown to lower chances of returning to the system, making us all safer. Our criminal legal system also disproportionately impacts Black, Indigenous, low-income, and survivor communities. We cannot let a right as fundamental as the right to vote be dependent on a system that affects some groups of people more than others. This bill will help Washington follow in the footsteps of the other states who have restored voting rights to everyone in the community. It will lead us towards a future with a more racially-just and representative democracy.
You can reference our handy messaging guide for more tips on what words to use and how to uplift this issue!
To hear the stories of impacted people, you can watch the Voting Rights Restoration Coalition's community webinar or the first hearing of the bill.
Thank you for being an advocate as we head into the 2021 legislative session. Your participation is pushing Washington towards a more racially just and democratic future, and we could not be more grateful!
For more information on our partner coalition who is leading the way on this issue, visit freethevotewa.org.
For more detailed guides on how to have your voice heard during this lawmaking season, check out the links below!
Learn how to testify or submit a written testimony for a bill