Trick-or-Treat and Get Out the Vote
Spooky, scary skeletons, and…what's that? Election deadlines!?
We were lovingly writing important voting dates in our calendar when we realized that the last day to register to vote online falls on Halloween this year! This gave us a very interesting idea.
What if we could gather some of Washington's youngest and brightest activists (emphasis on the youngest), and have them help us get out the vote while trick-or-treating?
So here's what you can do:
Print out one of our spooky GOTV tags and attach it to your trick-or-treat bag.
After the person at the door gives you your candy, politely ask the person: "Did you know that today is the last day to register to vote online?"
If they say "no," show them your GOTV tag and say: "You can scan this to register to vote right now or check that you are registered at this address!"

The person just has to point their phone camera at the QR code and click the popup, or type VoteWA.gov into their browser.
You can alternatively print out a bunch of the GOTV tags and hand them out

Say "Thank you! Don't forget to vote on November 8!"
This Halloween, let's get out the vote together! Share this post to get as many of your young friends to participate as possible.
Facebook event page: https://fb.me/e/2XLVDtSyc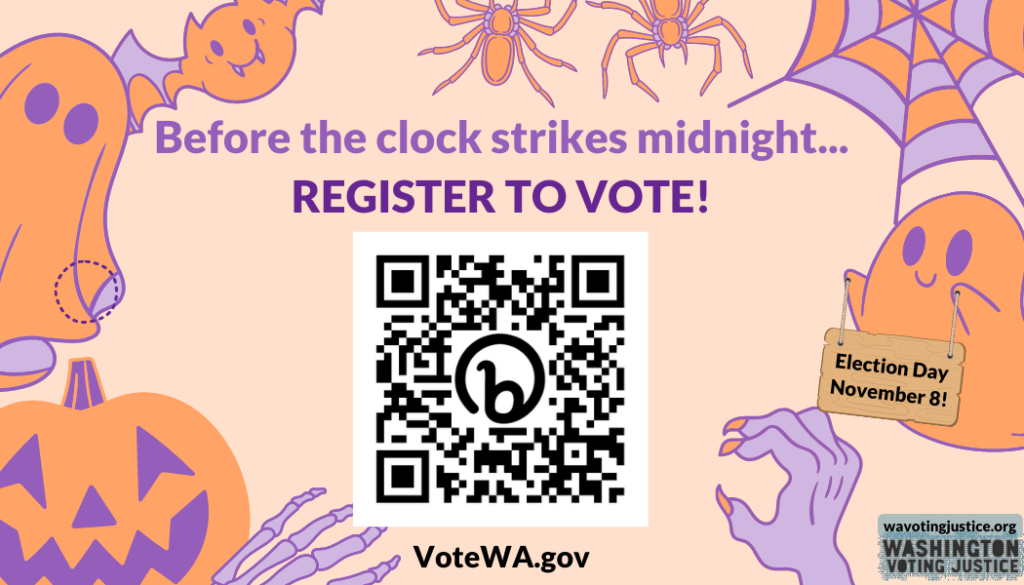 FAQ:
Is there still time to register by mail or in person?
Unfortunately, mail-in registrations would have to be received by October 31, so if they cannot register online (which you need a WA driver's license to do), they must register to vote in person at a vote center. They can register in person even on Election Day, so there's still time!
What if the person cannot register to vote?
No need to pry, but it's good to know your rights! If someone says they are not a citizen, will be younger than 18 on Election Day, or have lived in WA fewer than 30 days, unfortunately they cannot register for this election.
But, you CAN vote if you have a past conviction or if you do not have a traditional address!
Is this allowed?
There's no age limit to who can canvass – anybody can do it! We are a nonpartisan organization, and are encouraging you to ask folks to vote (we're not canvassing for a particular party or candidate.)
Why this idea?
People are already expecting people to knock on their doors on Halloween, and we won't get the usual startled curtain pulls we usually get when canvassing.
Our canvassers will get candy from every house, which is never a perk during usual GOTV.
We can inspire a new generation of young activists who can learn how easy it is to be involved in elections even if you aren't of voting age.
Who are we?
The WA Voting Justice Coalition is a group of community organizations and individuals dedicated to voting rights and access in Washington State. We believe that the vote is our tool, as ordinary people, to have a voice in our government. Washingtonian voters should have the opportunity to cast their ballot, and have it counted. Our coalition is a non-partisan organization: our work together isn't based on politics, but rather on our shared values of participation, civic engagement, and justice for all.