Voting Rights Restoration Bill Signed into Law! FAQ and Video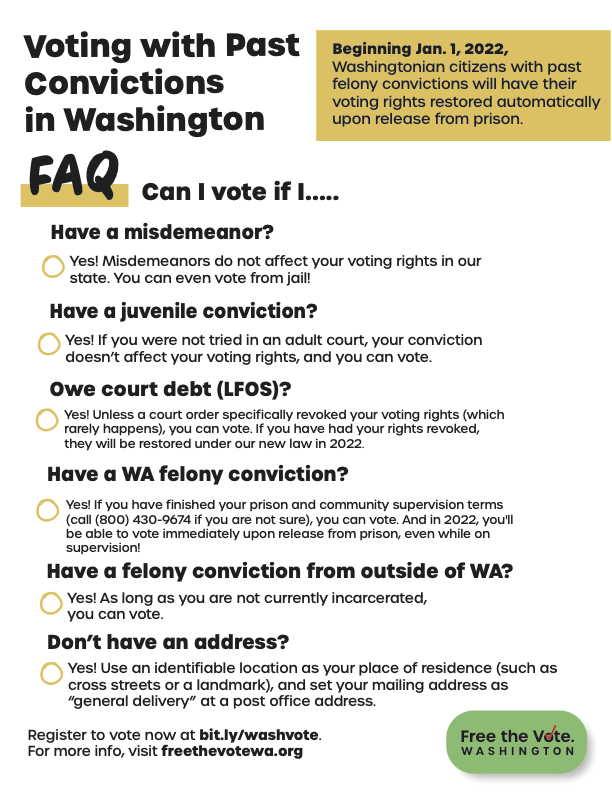 Governor Inslee signed the Voting Rights Restoration Bill into law yesterday – what does that mean for the thousands of Washingtonians who are not allowed to vote because of a past felony conviction? Read our FAQs below!
Who cannot vote under Washington's current law?
People with felony convictions who are currently incarcerated or under community supervision currently are not allowed to vote. There is also a chance that people can have their rights revoked by a court if they cannot pay their court debt (legal financial obligations).
2. What does House Bill 1078 change?
HB 1078 will automatically restore voting rights to citizens immediately upon their release from prison – all citizens living in our communities will be allowed to vote.
HB 1078 will not restore voting rights to people who are incarcerated, or people who are ineligible to vote for a different reason (age, citizenship status, etc).
3. How many people will be impacted?
According to a report from the DOC, there are over 20,000 people living in our communities right now who will be brought back into our democracy by this bill (their numbers estimate about 26,000). Black and Indigenous people are disproportionately represented in this population.
4. When will HB 1078 be implemented?
January 1, 2022
5. What is community custody/supervision? Is community supervision the same as parole?
Washington state does not have parole, but people may have a period of community supervision included in their sentence. Some people are in community supervision after completing their prison terms, while others may have never gone to prison at all. The Department of Corrections states that one of the main goals of this time is to provide opportunities and support to people as they reintegrate into their neighborhoods. People under community supervision are living at home, paying taxes, working jobs, and trying to successfully re-enter their communities.
6. Do we require payment of Legal Financial Obligations (LFOs) in order to vote? / What is the purpose of Legal Financial Obligations?
LFOs (court debt) can be for restitution, fees, fines, assessments (like DNA tests), and court costs. Before HB 1078 is implemented, people unable to pay their fines or other court costs can still register to vote, but there is a chance that their voting rights can be revoked by a court for their nonpayment. This policy has been very confusing for people returning to their communities, and many mistakenly believe they are barred from voting or do not vote out of fear. If you know someone who owes court debt and has not had their rights revoked by a court, let them know that they can register to vote now!
HB 1078 makes things much simpler: any citizen who is not incarcerated will be able to vote, and that right will not be able to be revoked because of court debt.
7. How does Washington's policy compare to other states?
In two states plus Washington D.C., every citizen can vote, even while incarcerated. In 19 other states, every citizen in the community can vote. House Bill 1078 will bring us in line with these states, including the rest of the West Coast.
8. Who supports allowing all citizens in the community to vote?
A broad coalition of people have joined together to win this victory for voting rights, including criminal justice experts, survivor groups, law enforcement, and the Department of Corrections. This policy also has widespread support in the public. 87% of Washington voters support automatic restoration for people not incarcerated – and this support is strong regardless of political party, region, or demography.
9. What can I do to help spread the word?
If you know people who have been impacted by our criminal legal system, let them know that things are changing next year, and make sure they have what they need to register and vote in 2022! You can share our posts on social media (@wavotingjustice) to tell your friends the good news as well, and learn more from our partners at the Washington Voting Rights Restoration Coalition (freethevotewa.org). We also have posters and flyers linked here.